Gastronomy is one of the cornerstones of Catalan culture. This culinary wealth has helped establish Barcelona as a city which is a treasure trove of extraordinary, varied and high-quality cuisine.
Acclaimed by many as the gastronomic capital of Spain, Barcelona has been making its mark within the Michelin world in recent years. Counting no less than 23 starred restaurants in 2015 (compared to 8 in Madrid), this is where today Traditional cuisine mixes with Molecular Gastronomy,  Deconstructivist cooking, or Nouvelle cuisine to produce dishes that will captivate, indulge and exhilarate the most elaborated palates.
Below is a guide to Barcelona best restaurants.
♣ The Two 

Michelin 

Star Quartet ♣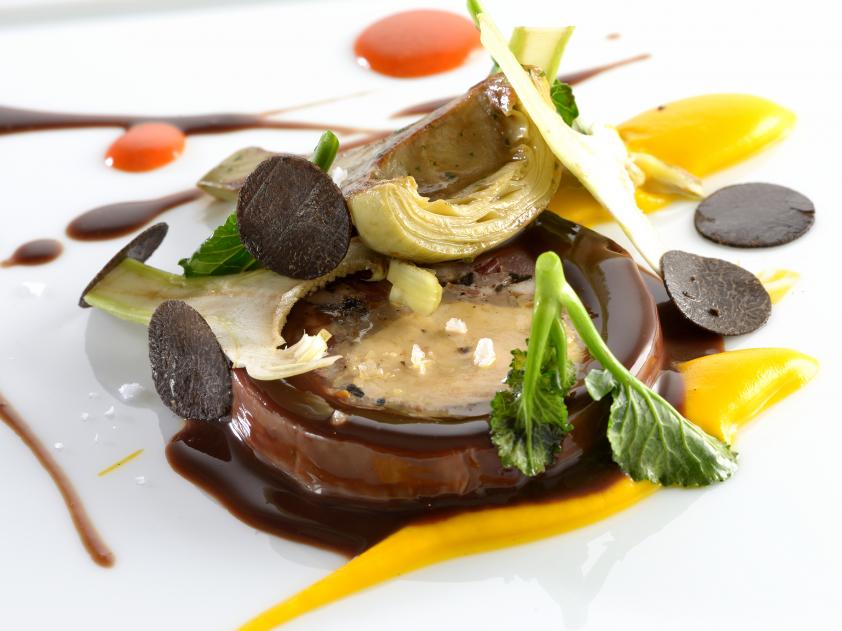 Lasarte is the two-star Catalunya outpost of the renowned Basque chef Martin Berasategui at the Condes Hotel in Barcelona. The restaurant is named after the Basque town near San Sebastian where Berasategui's three-star restaurant is located. Today, chef de cuisine Paolo Casagrande runs the kitchen while manager Joan Carles Ibañez oversees operations.
" This impeccable restaurant bears the personal hallmark of Martín Berasategui. Savour highly imaginative cuisine featuring interesting and innovative dishes, as well as the occasional Basque recipe. Creativity shines through both on the à la carte and tasting menus". (Michelin Guide)
Discover the heart and soul of contemporary Mediterranean cuisine overseen by renowned Catalan chef Paco Pérez. Inspired by the food and produce of the Mediterranean, an innovative cooking brings out the essence of high quality local ingredients, with an emphasis on fish and seafood. Enoteca's cellar features more than 700 wines.
"The perfectly crafted contemporary cuisine has its roots in traditional dishes. It is prepared with top quality ingredients and superb attention to detail." (Michelin Guide)


ABaC, located in the ABaC Hotel in Barcelona's Zona Alta, is the brainchild of 36-year-old Catalan chef Jordi Cruz. The avant-garde wizard won his first Michelin star at 24 years old, the youngest chef in Spain and the second youngest chef in the world to accomplish the feat.
"A superb culinary experience awaits in the upper reaches of the city. ABaC's innovative, technically faultless cuisine is fascinating in its creativity and pairing of products." (Michelin Guide)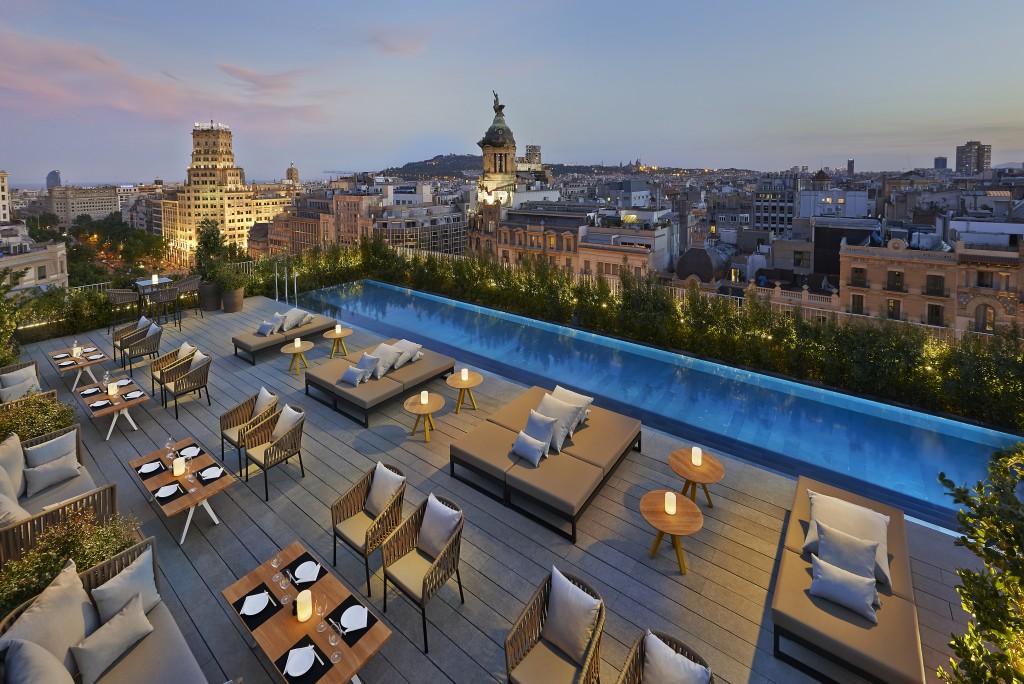 Managed by chef Carme Ruscalleda and her son Raül Balam, Moments offers one of the finest gastronomic experiences in Barcelona. Having won seven Michelin stars for her restaurants in Spain and Tokyo, Ruscalleda is one of the most famous chefs in the country. Her cooking, like that of her son, is pure, delicate, extremely precise, yet exploding with flavour. If you want to taste a pea, a potato, or an artichoke as God intended, or tuck into upgraded Catalan classics such as escudella (Christmas stew) or arroz caldoso (rice broth), few places do it better.

♣ The Up and Coming One Michelin Star
 ♣
Angle Barcelona:  Chef Jordi Cruz defines his cuisine as "evolutionary and restless, based on the product and where creativity and tradition are merged."
Via Veneto: Chef Sergio Humada. "Belle Epoque-style with a dining room laid out on several levels. Impressively updated classic menu with game in season. Its wine cellar, featuring around 1,400 labels, is one of the best in Spain."



Caelis: Chef Romain Fornell (1st Star). "Creative and meticulously presented cuisine of a high standard."
Tickets: La Vida Tapa " The concept of "La Vida Tapa" presents a new way of understanding the world of gastronomy and life: an entertaining way to eat that turns the participant into an interpreter of a work of theatre and circus vaudeville. Creating a scene of life itself. In Tickets La Vida Tapa, the laughter, complicity and good company leave no room for boredom, sadness or loneliness."


Cinc Sentits (Five Senses): chef Jordi Artal. "Inventive culinary creations based around carefully selected Catalan products" (Michelin Guide). "New-style Catalan cuisine prepared by a prodigal chef" (New York Magasine).
Saüc: Chef Xavier Franco and part of Olha Hotel. "Traditional Catalan cuisine served in a chic and modern decor."
Comerç 24: Chef Carles Abellan. "Spanish influenced cuisine with a liberal dosing of molecular gastronomy, just spectacular"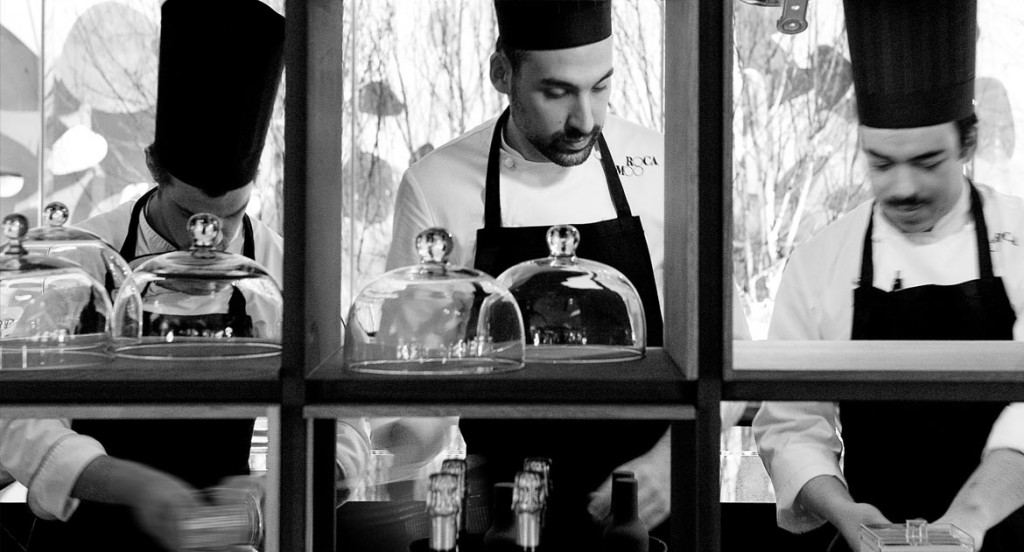 Roca Moo: "Gastronomic restaurant overseen by El Celler de Can Roca and managed by chef Juan Pretel Roca Moo offers a special twist on catalan cooking. Seen by some as one of the best restaurants in the World."
Dos Pallillos: "Chef Albert Raurich with his Japanese sommelier/wife Tamae Imachi preside over a convincing facsimile of a Tokyo food bar, complete with retro-kitsch decor. 'Fusion food' as an idea may sound passé, but not when it's done with the passion and commitment of these two".
Pakta: "Ferran Adria's Japanese-Peruvian restaurant brings Nikkei-style cooking to Barcelona. Lead by a trio of fantastic chefs, Kioko Ii from Japan, Jorge Muñoz from Peru and the Catalonian, Albert Adrià."
Gaig: Chef Carles Gaig. "This spacious restaurant exudes elegance and a thoroughly modern feel. A menu divided in two parts, one focusing on traditional dishes, the other on contemporary cuisine. Superb presentation!"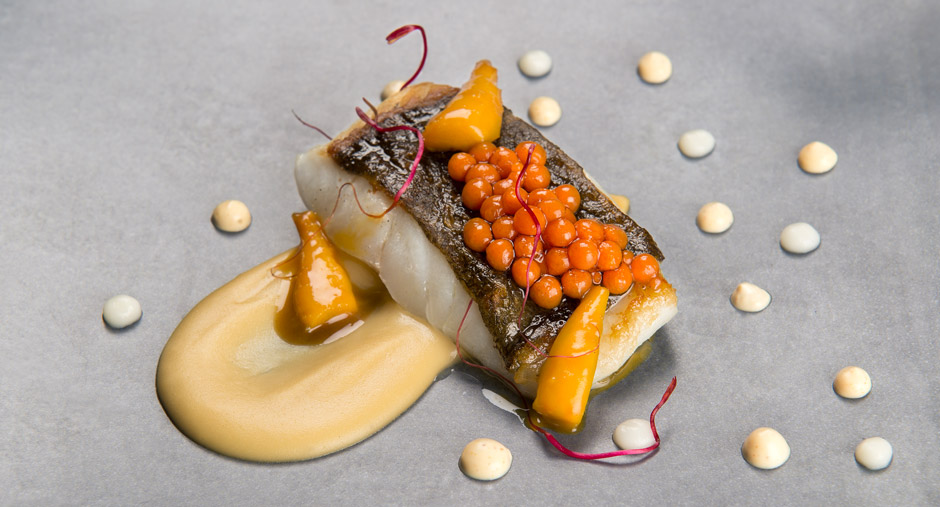 Neichel: Chef Jean Louis Neichel. "French Master introduces flawless Mediterranean delicacies managing a vast variety of exquisite ingredients such as foie gras, truffles, wild mushrooms, herbs, and the best seasonal vegetables."
Hisop: Chef Oriol Ivern Bondia. Contemporary Catalan cuisine. "This modern restaurant offers guests an intimate dining experience. Enjoy fresh and creative dishes based around traditional recipes in the minimalist dining room. Everything is prepared with locally sourced and seasonal products brought together to produce some interesting combinations." (Michelin Guide).
Nectari: Chef Jordi Esteve. "The owner-chef offers a mediterranean inspired menu with innovative touches".

Hofmann:  Chef Mey Hofmann. "Mediterranean roots with Catalan influence in Barcelona's uptown. Creative cuisine that attracts a sizeable business clientele."
Manairó: Chef Jordi Herrera. "The emphasis is on creative, predominately Catalan traditionally based cuisine featuring surprisingly innovative touches."
Koy Shunka: Chef Hideki Matsuhisa. Seen by most as Barcelona leading Japanese restaurant.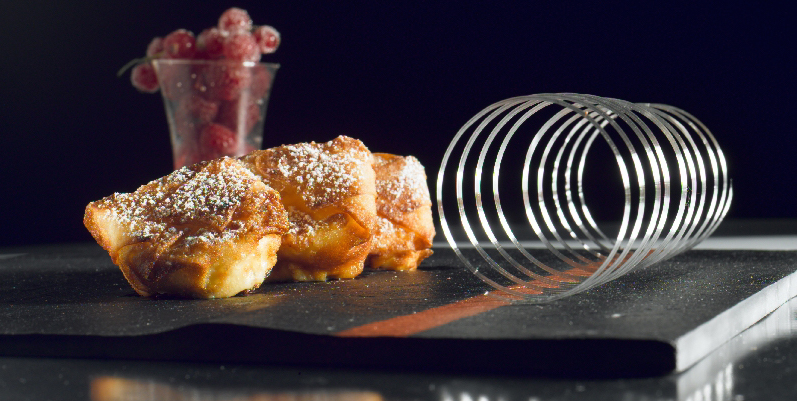 Bon Appétit!!