» Back to Blog Page
Foreign demand for property in Spain hit a record high at the end of 2015, driven by explosive growth in the number of British buyers.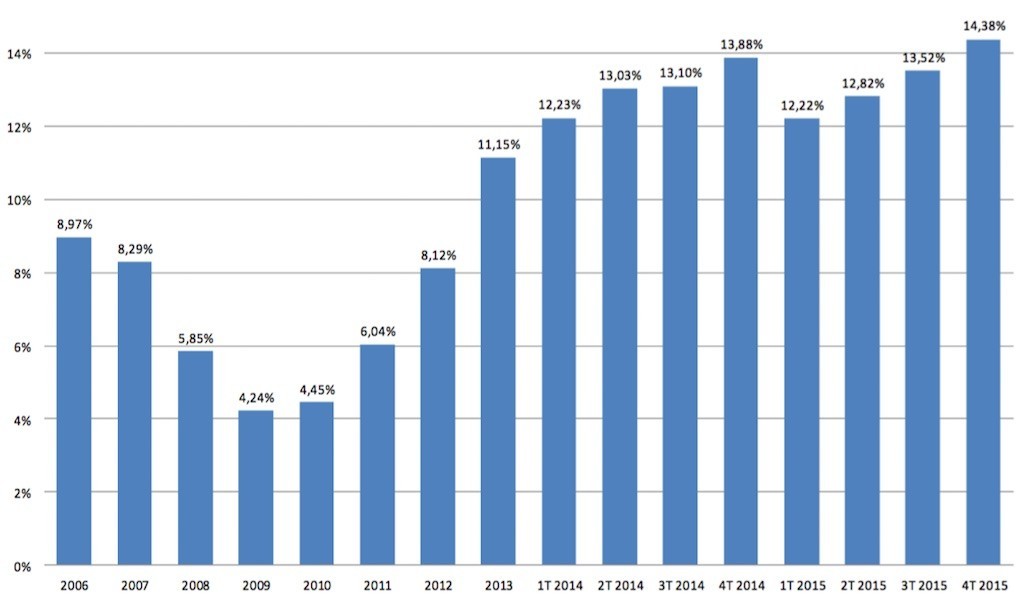 14.4% of all Spanish home sales inscribed in the Property Register in the last quarter (Q4) of 2015 involved a foreign buyer (see chart above), reveals the latest report from the College of Property Registrars (Registradores). That is a record high for the share of foreign buyers in the Spanish property market.
For the year as a whole, foreign demand as a percentage of the market was 13% last year, fractionally down from 13.5% the year before. More than one in ten properties sold in Spain today is bought by a foreigner, including both residents and non-residents.
In absolute terms, foreigners bought 46,000 homes in Spain last year, 12,000 in the last quarter alone. Foreign demand was up 11% last year, and 12% in the last quarter, whilst local demand grew by only 7% in the last quarter.
DEMAND BY NATIONALITY
The British were once again the biggest group of buyers by a large margin with 9,956 acquisitions last year (21% of foreign demand last year), followed by the French with 4,116 (9%), and the Germans with 3,445 (7%).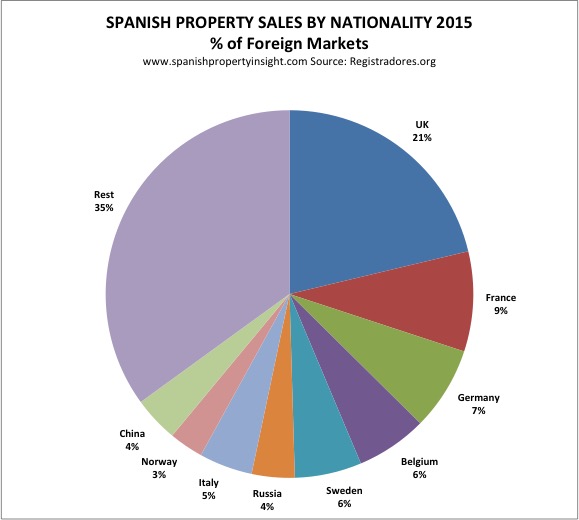 What is remarkable is how much British demand surged in the last two quarters of the year, which was not the case with other nationalities. Russian demand declined steadily throughout the year – in both cases the change was influenced by exchange rates, with the Pound strengthening and the Rouble weakening.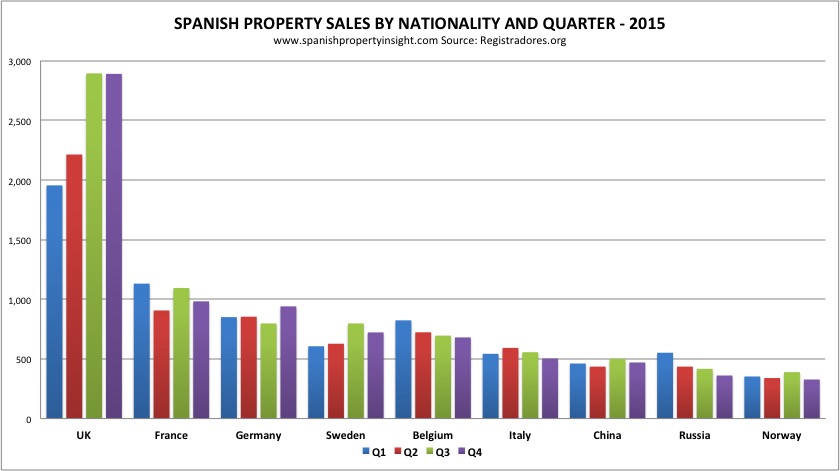 BRITISH DEMAND SURGES
The big story from last years foreign sales figures was the 42% increase in British demand compared to the year before (see correction notification below). The British are clearly back to being the dominant force in foreign demand, though not yet as dominant as they were in the boom years.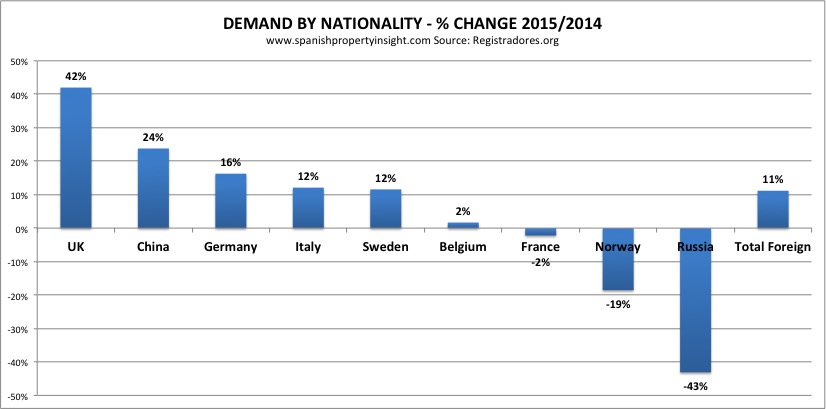 British demand has increased from 15% of the foreign market in Q1 2014, to 24% in Q4 last year.



Low Spanish property prices (down around 50% from the peak) plus a stronger Pound are no doubt fueling British demand, but fears of a Brexit referendum result next week creating uncertainty about the UK's future in Europe, and a weaker Pound in the short term, could encourage British buyers to sit on the sidelines for the next few months. So don't be surprised if British demand is significantly down in Q1 of this year when the figures come out.
At the other end of the scale Russian demand was hammered last year, down 43%, thanks to serious economic problems at home pushing the Ruble down around 16% in the last year, and 50% in the last 3 years, leaving many Russians much poorer.
British Demand Surged for Spanish Properties in 2015
Source: Mark Stucklin (Spanish Property insight)