» Back To Blog Page 
Spanish Property: CBRE Forecasts a 6% Price Rise and a positive Rental Market in 2016.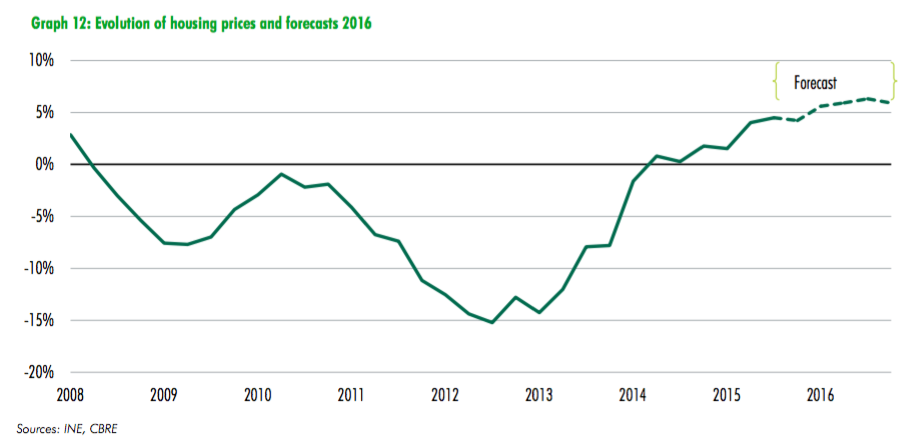 The international real estate consultancy CBRE forecast a positive year for the Spanish housing market in 2016. In their recently published report on the Spanish property market 'Real Estate Sector Outlook 2016' CBRE forecast that average house prices will rise by 5.95 this year, with the strongest annualised growth in Q3 (+6.3%). Growth will be highest in the Autonomous Communities of Madrid, Barcelona, Valencia and the Balearic Islands.
They support their claim with reference to recent trends, pointing out that prices in Q3 2015 rose by 4.5% on average (INE data). "The Autonomous Communities of Madrid (6.9%), Catalonia (6.1%), Valencia (6.1%) and the Balearic Islands (8.4%), were the most sought after areas," the report explains.
New Development In for a good year 
Citing a 40% increase in resales, and 35% decline in new home sales, they say "the supply of new- build housing is drying up in the most sought after areas, due to the increase in demand for new-build housing." This, they argue, "would suggest that 2016 will see more investment and housing starts"
Madrid will be a hotspot for new development this year, pointing out that planning approvals were up 63% in the first 10 months of last year, compared to a national increase of 18%.
Rental Market converge on European levels 
Renting is an increasingly attractive option in Spain, they explain. "The decrease in rental prices (-0.5%, in line with the CPI rental index), coupled with the tax advantages and improvements for both tenants and landlords, continue to make this option ever more appealing. There also continue to be factors that are making it more difficult to get on the property ladder – especially for young people, such as job instability or ever more people moving location."
The result will be Spain looking more like Europe in terms of the ratio of households living in rental accommodation. "For all of the above, the rental market is expected to continue to expand in 2016 and the ratio of rented housing (14.9% in 2014) will continue to converge towards the Eurozone average."
Positive Economic Factors 
CBRE offer reasons to explain the recent improvement in the news coming from the Spanish housing market. "The recovery has been aided by low interest rates, which has made lending more affordable and subsequently made alternative investments such as residential [property] more attractive to investors. Private deleveraging and improved income, wealth and employment forecasts have been the other factors that encouraged residential investment in 2015."
Source: Mark Stucklin (Spanish Property Insight)
Related Articles:

Galleon Property Search Ltd. Buying Agent that specialises in the Search and Acquisition of properties in Spain for private individuals and property investors.