» Back to Blog Page
Spanish Golden Visa and The International Citizenship Programs.



The Spanish Golden Visa scheme, which offers a limited form of residency, and a long-term path to citizenship in return for certain types of investment, including an investment of €500,000 in Spanish real estate, was introduced by the current Government in 2013 to attract foreign capital to Spain, and stimulate demand for property after the crash.
According to Kyero, a total of 1,189 of the so-called Golden Visas have been awarded to foreign investors for the purchase of real estate in Spain with a value of over 500,000 euros since its creation. During this two-year period, the level of investment involved in these transactions has reached some 910.6 Million Euros.
Russian and Chinese real estate investors accounted for over 65% of the house purchases entitling buyers to obtain a residence permit in Spain. Specifically, in these two years, the Russians were responsible for over 35% of the transactions for luxury homes (417) to a value of 328 million euros, while a total of 363 transactions (30.5%) were carried out by Chinese investors, amounting to 268.4 million euros. Also obtaining Golden Visas for the purchase of luxury homes, albeit on a much lesser scale, were investors from the Ukraine, Venezuela and the Middle East.
The analysis by province shows that the majority of the foreign investors opted for dwellings located on the coast. Except for Madrid, the top five provinces with most transactions are located on the coast. Barcelona registered most transactions (490 and 41.2% of the total), followed by Malaga, with 211 acquisitions (18%), Madrid with 183 (16%), then Girona, Alicante and Valencia.
There are four types of Spanish Golden Visa:
Investor Visa
Entrepreneur Visa
Highly Qualified Professional Visa
Expat Visa
Follow link for an overview from the Law firm Gomes-Acebo & Pombo on how to qualify for each visa » Golden Visa 2016
Alternative Citizenship Programs (click to enlarge)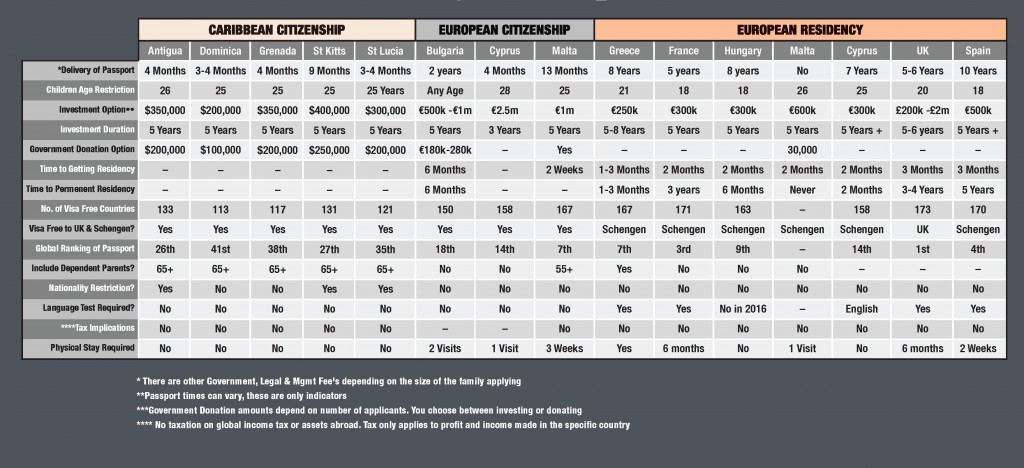 Sources: Gomes-Acebo & Pombo law firm and Kyero.
Related Articles:

Galleon Property Search Ltd. Buying Agent that specialises in the Search and Acquisition of properties in Spain for private individuals and property investors.