Monaco Property Market Update: June 2020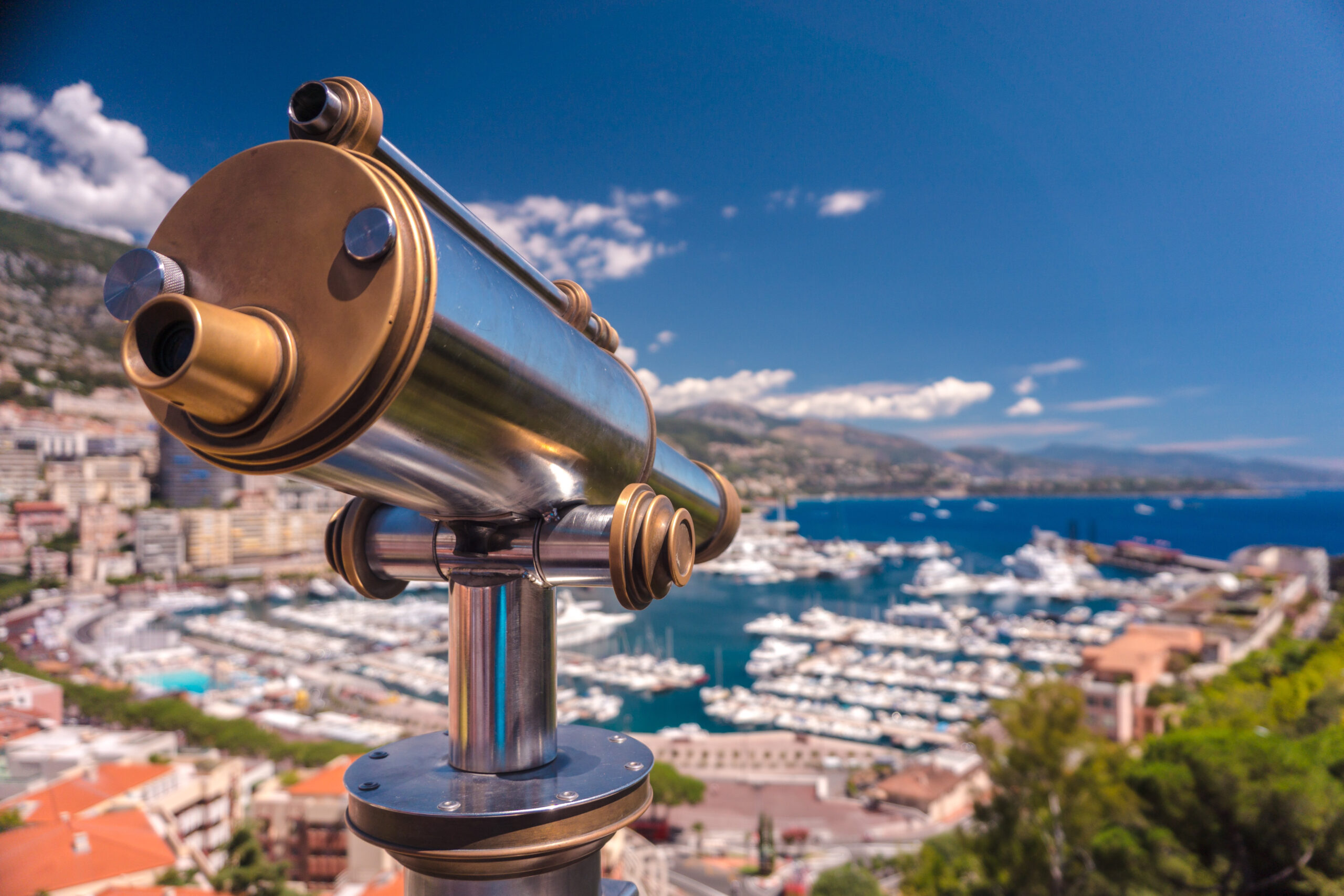 Monaco has long been seen as the pinnacle of luxury. Despite being the second smallest country in the world, the Monaco property market is the most expensive in the world.
The Future of the Monaco Property Market
Average prime residential values in Monaco are estimated to be 10% higher than in Hong Kong, 96% higher than in New York, 176% higher than in London, and a staggering 237% higher than in Paris.
Purchasing property in Monaco is appealing on a number of fronts, not least because of Monaco's advantageous tax environment. Settlers benefit from no income or wealth tax, no inheritance tax and a high standard of living. Commentary suggests two emerging property markets are apparent in Monaco: investors, seeing Monaco as a tax haven; and families, hoping to relocate to Monaco for a more luxurious life.
The property market in Monaco has been relatively immune to changes elsewhere in the world, seeing steady growth from 2010 onwards. The cumulative amount of sales and resales of property in Monaco in 2019 reached €2.8 billion – a 4.4% increase on 2018 figures.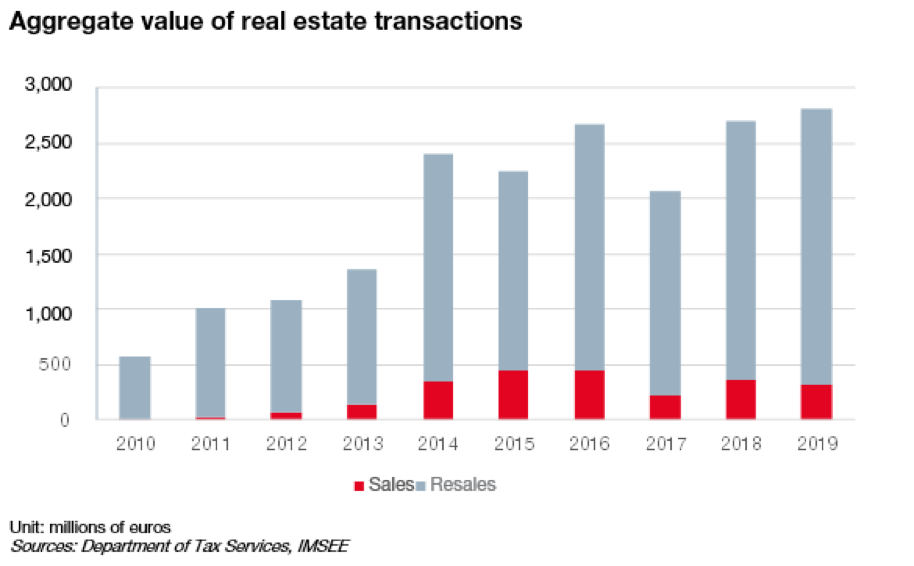 Growth is strong, and shows no signs of slowing down (pre Covid-19). While political instability causes concern in many other international property markets, Monaco's political environment is fostering steady and reliable growth of the residential property market. Development of new property fell slightly in 2019, but remains at a significantly higher level than the start of the decade.
While the average price per square metre of property in Monaco also fell slightly in 2019, it remained above €48,000 – still significantly higher than global averages.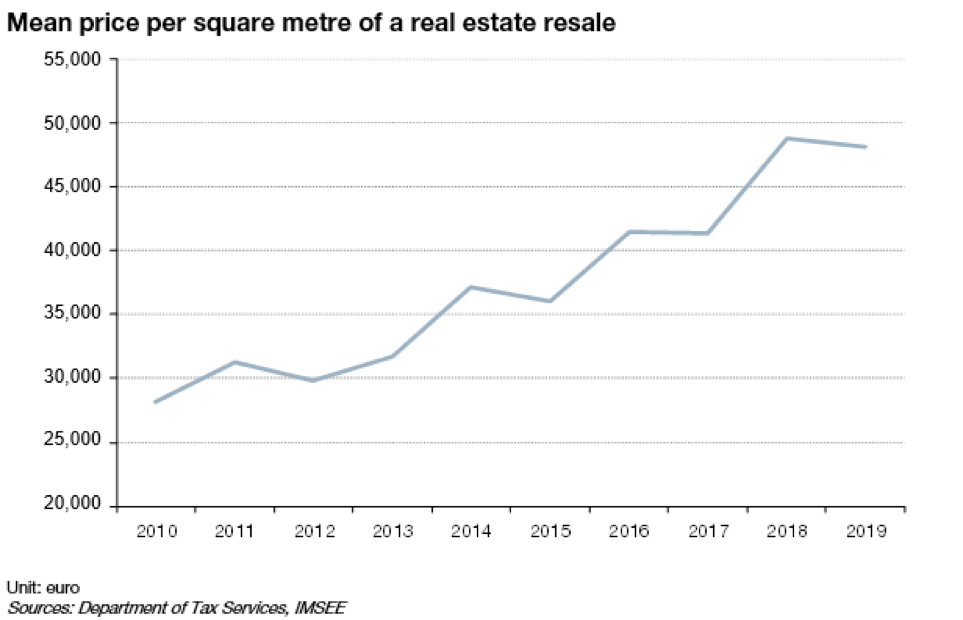 Specifically, the districts of Monte Carlo, Fontveille and La Condamine all see an average price per square metre of over €50,000, which is almost double the €26,909 seen in Hong Kong. Fonteveille's price per square metre is increasing particularly rapidly, seeing a 14.2% increase in 2019 and being the only district whose value has doubled in the last decade.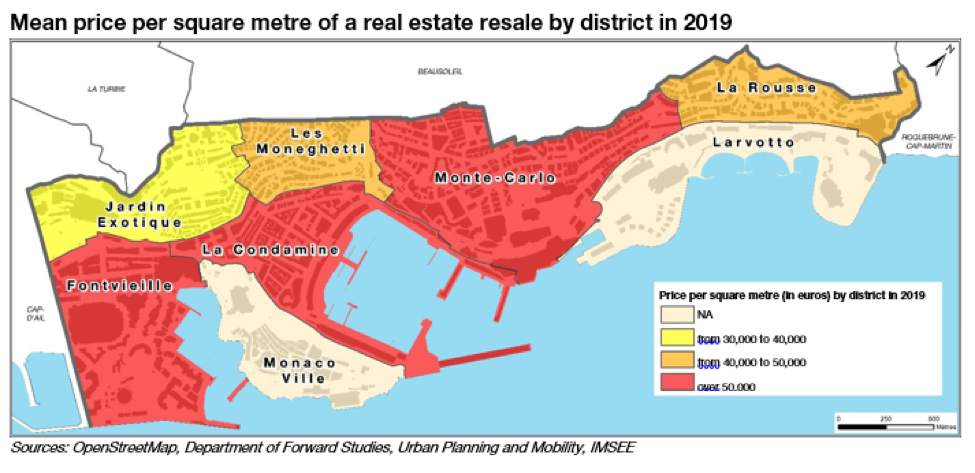 Foreign Investment in Monaco Property
Investing in property in Monaco comes with a similar cost burden than elsewhere in the world. Investors can expect to pay around 4.5% in stamp duty, as well as the usual agency costs associated with property sales.
Investors looking to rent their property can enjoy the benefits of Monaco being the most expensive market to rent prime property. Average annual rental values reached €1,200 per square metre at the end of 2018, compared to just under €1,000 per square metre in New York and Hong Kong.
However, caution should still be exercised when purchasing buy-to-let property. For renters testing the waters before seeking residency, apartment size is crucial: a condition of residency is that the size of the residence is appropriate for the size of the family, making studio apartments in particular less appealing. This trend can be seen in the sharp increase of four-bedroom apartment sales, which rose by 24.4%, and the decline in sales of 3-bedroom (down 28.1%) and smaller apartments in 2019.
What does the market look like in 2020?
With the onset of the COVID-19 pandemic, predictions made in 2019 are falling flat in property markets across the world. It's impossible to know all the impacts the pandemic will have, but we're confident that some markets will recover more quickly than others.
The property market in Monaco is one of those that is predicted to recover quickly. It is primarily driven by foreign investment, making it more capable of weathering economic store. Demand consistently outstrips supply and the wealth benefits and tax system will always appeal to foreign investors. Based on Monaco's reactions to other global economic crises, we're confident that there will not be a sharp fall in prices after the pandemic.
Conclusions
While the number of properties being sold in Monaco has slowed down slightly, the net value of market continues to rise – it remains a steady and consistently good market for investment. There are very few areas globally that can boast such an impressive track record of growth, and political stability is becoming an increasingly rare commodity on the international stage.
Property investment in Monaco is likely to see positive rewards in the coming years, despite the pandemic, and Monaco remains reasonably well protected from the fluctuations seen in many other property markets currently. If prices do fall slightly as a result of the coronavirus pandemic, investors will be quick to snap up opportunities – and will see a return on their investment when the market quickly recovers.
If you're considering Moncao as an investment opportunity, our experience in this buoyant market places us well to assist you. Whether you're a private or institutional investor, we can help you find the perfect foot hole in this growing market.