AN INTERVIEW WITH CONTEMPORARY MIXED MEDIA ARTIST, GALINA SHAMAEVA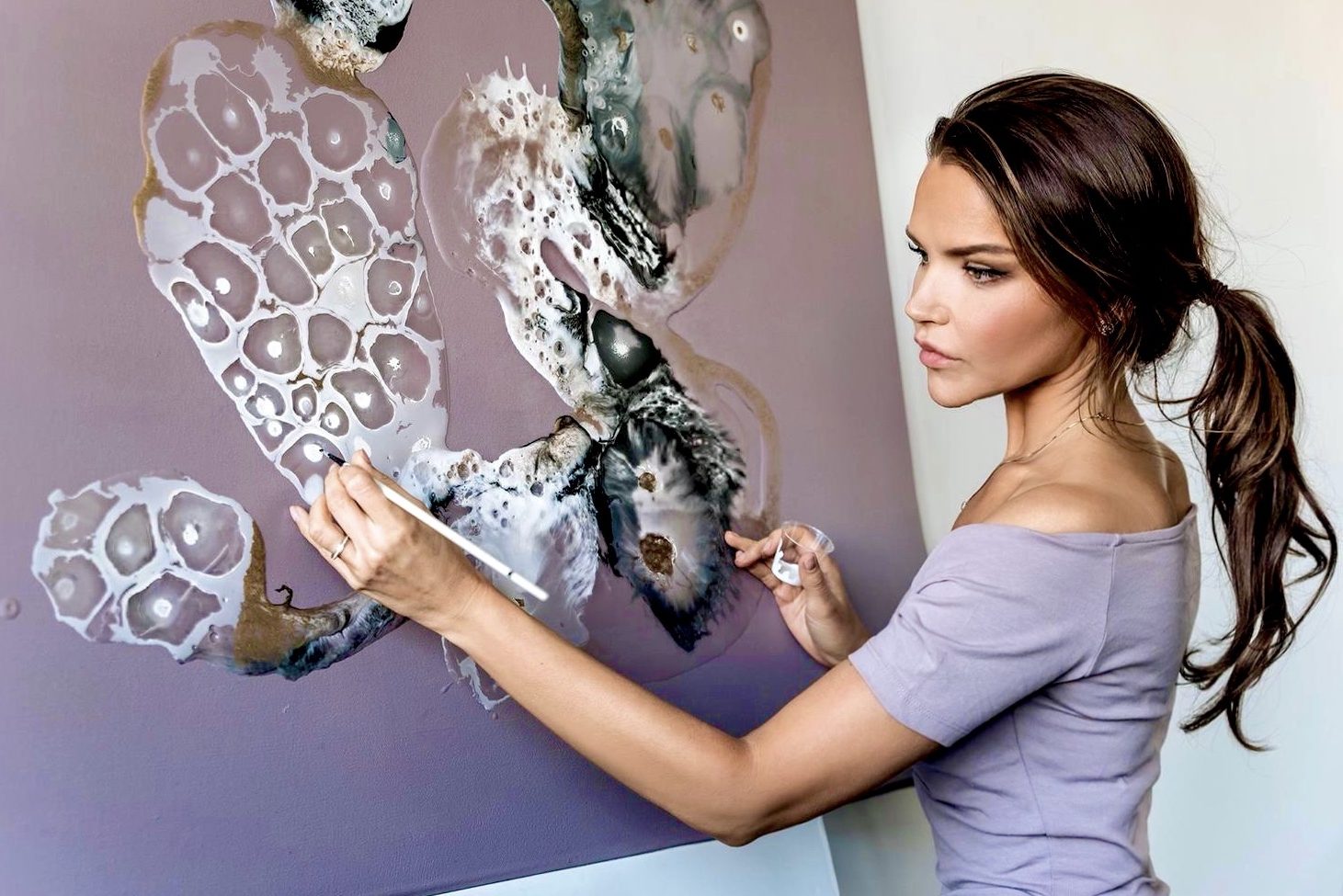 "I think my clients choose me because they're looking for more than just a painting. They want an artistic experience and a kind of abstract portrait as seen through my eyes as a painter. They want art that will speak to them consciously and subconsciously in a language that is private, meaningful and yet mysterious in a beautiful way." — Galina Shamaeva
Q&A with Galina Shamaeva
We count ourselves extremely fortunate to meet, and work with, such truly inspirational people on a regular basis. One of those people is friend and renowned, international artist, Galina Shamaeva. Galina's work is both unique and mesmerising. Inspired by an unusual combination of both artistry and science, Galina's style is eye-catching and instantly recognisable.
Seb: Hello Galina. It's very nice to see you.
Galina: "It's a pleasure to be here and thank you for inviting me."
S: Can you tell us a bit about yourself?
G: "I'm a British artist of Russian heritage. I was born in the Russian city of Ekaterinburg in the early 1980s and art was a big part of my life growing up. Right from elementary school, I had art and craft lessons almost every day. I did sculpture, composition, watercolour painting, etc. It was a lot of fun, but it didn't speak to my heart. In University, I got two bachelor's degrees in jewellery production and design, and economics and business management.
I later found my way to abstract painting during a difficult time in my life. By then, I had moved to London and had taken an interest in studying ancient practices for spiritual upliftment. I also became curious about neuroscience, molecular biology and quantum physics. The things I learned gave me a new perspective on life and it became important for me to express my thoughts, feelings and ideas in a physical way through art. So, I experimented a lot and that was how my unique style of abstract painting was born.
S: When did you know you wanted to be a painter?
G: "I think deep down, I've always been an artist. It just took me a while to discover myself and my style as a painter. I've been painting and drawing ever since I was a child. It was my way to relax and daydream. I would get carried away into a different state where time didn't matter and I didn't feel any physical needs. Luckily, painting still has this magical effect on me today.
For me, being a painter or an artist is not a profession. It's a special way to see the world. Painting is my way of expressing my views and beliefs. It's also a way to connect with my soul and my true self. Even my love for fine details and jewellery has carried over into my mixed media paintings."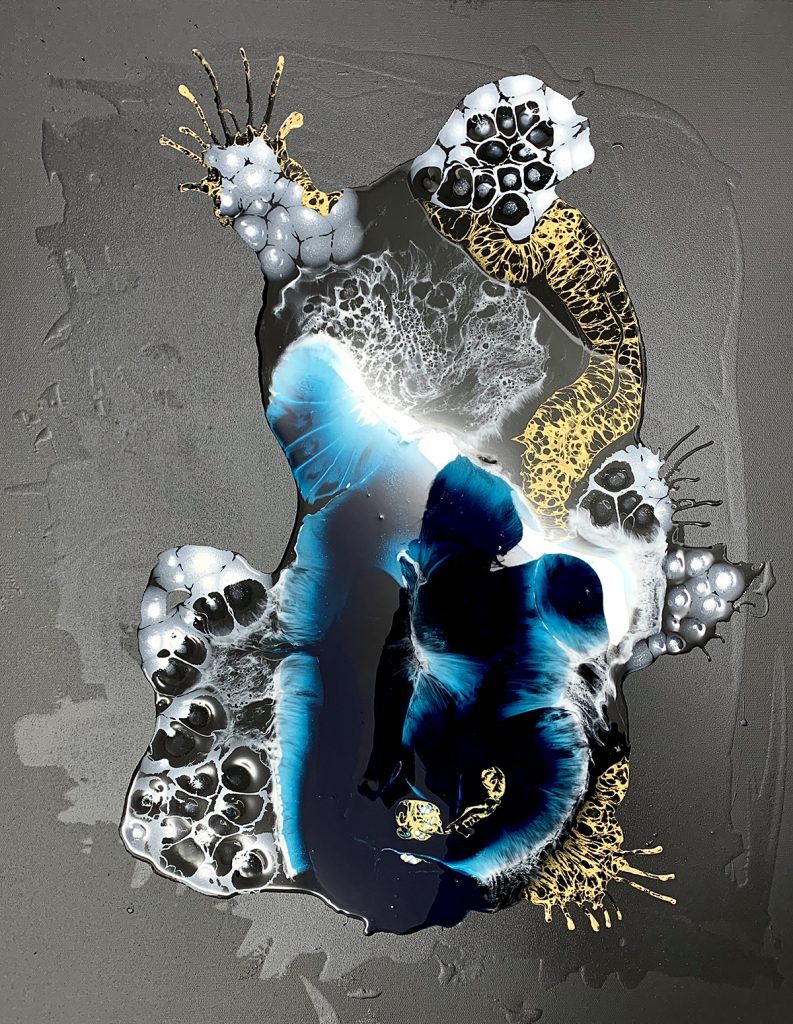 S: How would you describe yourself as an artist and your style of art?
G: "I'm a very intuitive painter and my style of art is abstract and expressionist. I'm endlessly fascinated by the universe and its invisible and mysterious phenomena. I believe our universe is full of energies and vibrations flowing around us and from us. My paintings are expressions of how I experience this invisible and often subconscious dynamic of energies and vibes. I work with ink, resin, acrylic and other mixed media on canvas, and create what I love to describe as liquid glass paintings because of their multidimensional and light-reflecting quality."
S: Do you think art has a greater purpose and if so, what is the purpose of your art?
G: "I believe art always has a much greater purpose than we might think. In general, I like to think of my art as an open invitation to explore the mysteries of the universe around us.
I also think art is like a piece of information that speaks more to our emotions and subconscious than to our rational minds. Every work of art is an imprint of the artist's vibration. Every painting I create is an abstract energy snapshot of me at the moment when the painting was made, and how people respond to my art will depend on how they vibe with it. In this way, the effect of a painting can be a lot like the effect of music or a book."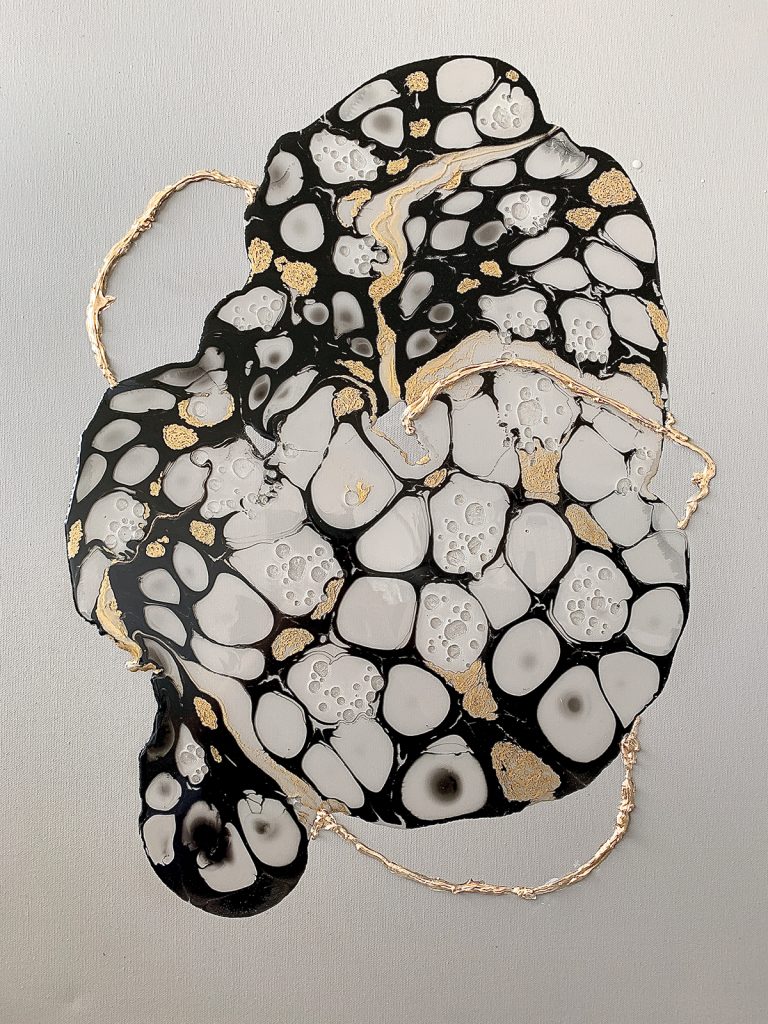 S: What are your artistic influences?
G: "Well, I love Salvador Dali's surrealist paintings. Dali knew how to see things from unusual and revealing points of view. I also greatly admire Leonardo Da Vinci. I think his love for life and desire to understand the unknown motivated him to achieve so much.
Though I don't spend too much time watching movies, I'm a big fan of the "Matrix trilogy", James Cameron's "Avatar" and Luc Besson's "Lucy". 'Alice in Wonderland' is my favourite book but Iusually read more of non-fiction, mind development books. You'll find works by authors like Neville Godard, Napoleon Hill and John Kehoe on my bedside table.
I appreciate all kinds of art, but I wouldn't really say I've been influenced by any particular artist(s). I've always wanted to express my own views of life through my art in my own unique way. That's what I've been doing for the past few years and it makes me happy to see that my art resonates with clients who commission personalized works and people who walk in to see my paintings at exhibitions."
S: Why do your clients choose you?
G: "I think my clients choose me because they're looking for more than just a painting. They want an artistic experience and a kind of abstract portrait as seen through my eyes as a painter. They want art that will speak to them consciously and subconsciously in a language that is private, meaningful and yet mysterious in a beautiful way.
When I'm developing a collection, I'm usually tuned-in to particular vibes or experimenting with new techniques or mixtures of materials. When I'm creating a commissioned piece for a client however, the process is quite different. I begin by getting a sense of my client's energy and vibe. I reflect on our interactions and may visit the place where the art is to be displayed. I also look at where my client is in her life and her aesthetic preferences, and will combine all these things into a unique, bespoke painting."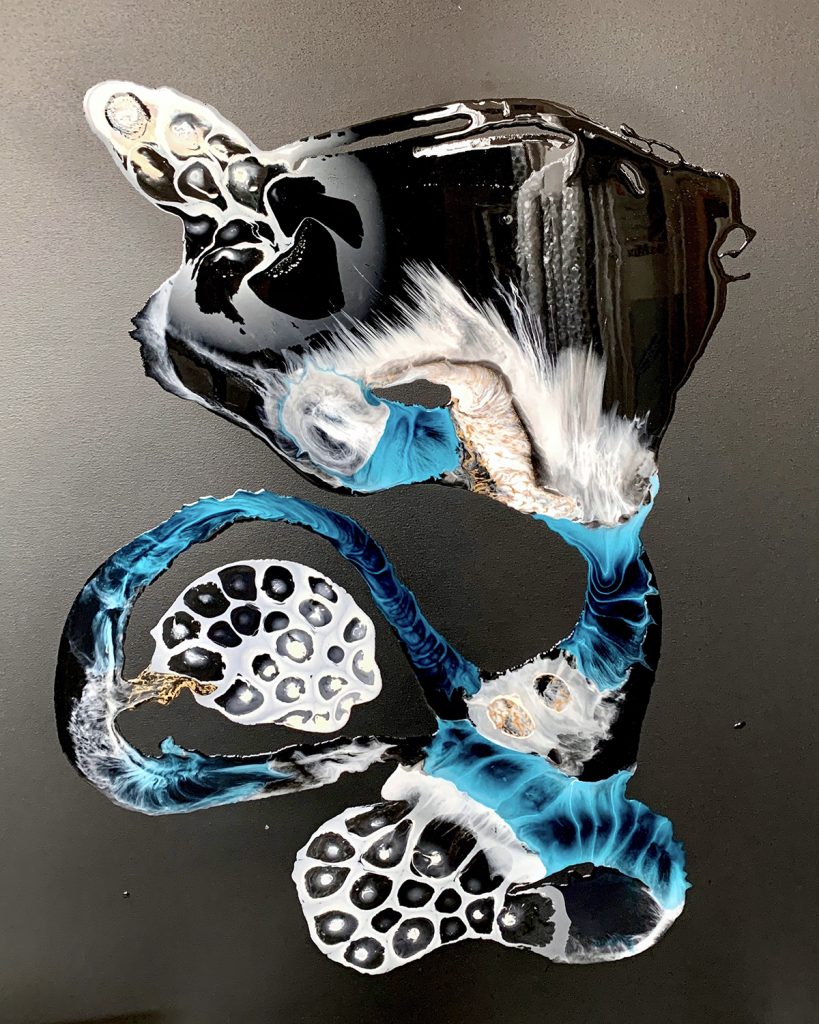 S: What motivates and inspires you to create?
G: "I would say nature is my greatest muse and there's still a lot we don't quite understand about nature. I get inspired by simple things like patterns in leaves, rocks, sand, water and complex, invisible things like force fields, molecular structures and energy vibrations.
I believe that understanding the dynamics of the universe around us is key to living happy, healthy and fulfilling lives, and art can help to bring this understanding and harmony by inspiring and challenging us, by reflecting our deepest desires and fears, and by speaking to us on a deeper, more intimate level. By seeking to understand and express the beautiful mystery of nature and the universe as I see and feel it, I'm also trying to understand myself and grow as a person."
S: What do you enjoy most about creating art?
G: "For me, painting is an act of magic which lets me bring together and reconcile all the things that interest and inspire me. When I paint, I don't plan anything. I enjoy being and feeling absolutely free from any frames or rules. I just go with the flow of inspiration and that inspired feeling varies every time. The vibe never repeats, so each painting is unique and there's really no chance to replicate any piece of my art."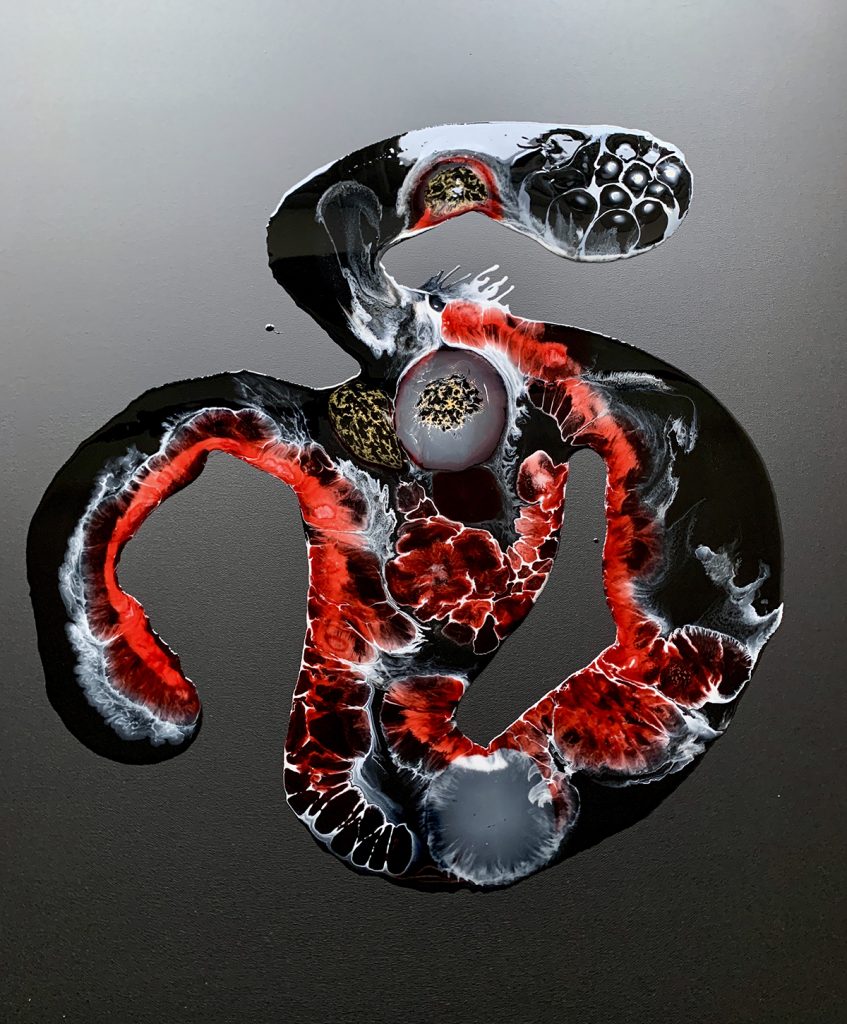 S: If you were reborn, what would you want to be? Would you still want to be an artist?
G: "Oh yeah. I'd definitely come back as an artist. I feel like that's what I was created for; art is my purpose. I totally enjoy being alive and being an artist. Things are not always very pleasant, but every experience is an opportunity to grow, learn, develop and transform."
S: What advice would you give to newer or younger artists?
G: "Find your own uniqueness. Discover what inspires you, what touches you, what you love and are drawn to. Start from there and don't get distracted by what others are doing. Sometimes, looking to others for inspiration can lead you to lose your own unique essence."
S: Where can people see your art and how can people reach you?
G: "I have my own art studio in London and clients can book appointments to have a studio meeting with me if they want to see my art in person and feel the energy of my creative space. My art is also shown in a few galleries around London and I'm currently in talks with galleries from other countries too. There'll be announcements through my website when these arrangements are completed.
There are also a number of ways to contact me online. I respond to most enquiries personally, so feel free to reach out to me at any time"
---
Instagram: @galina_shamaeva
Web: galinashamaeva.com
Email: art@galinashamaeva.com
Galina's Art Studio: By appointment only.