French property market update: March 2020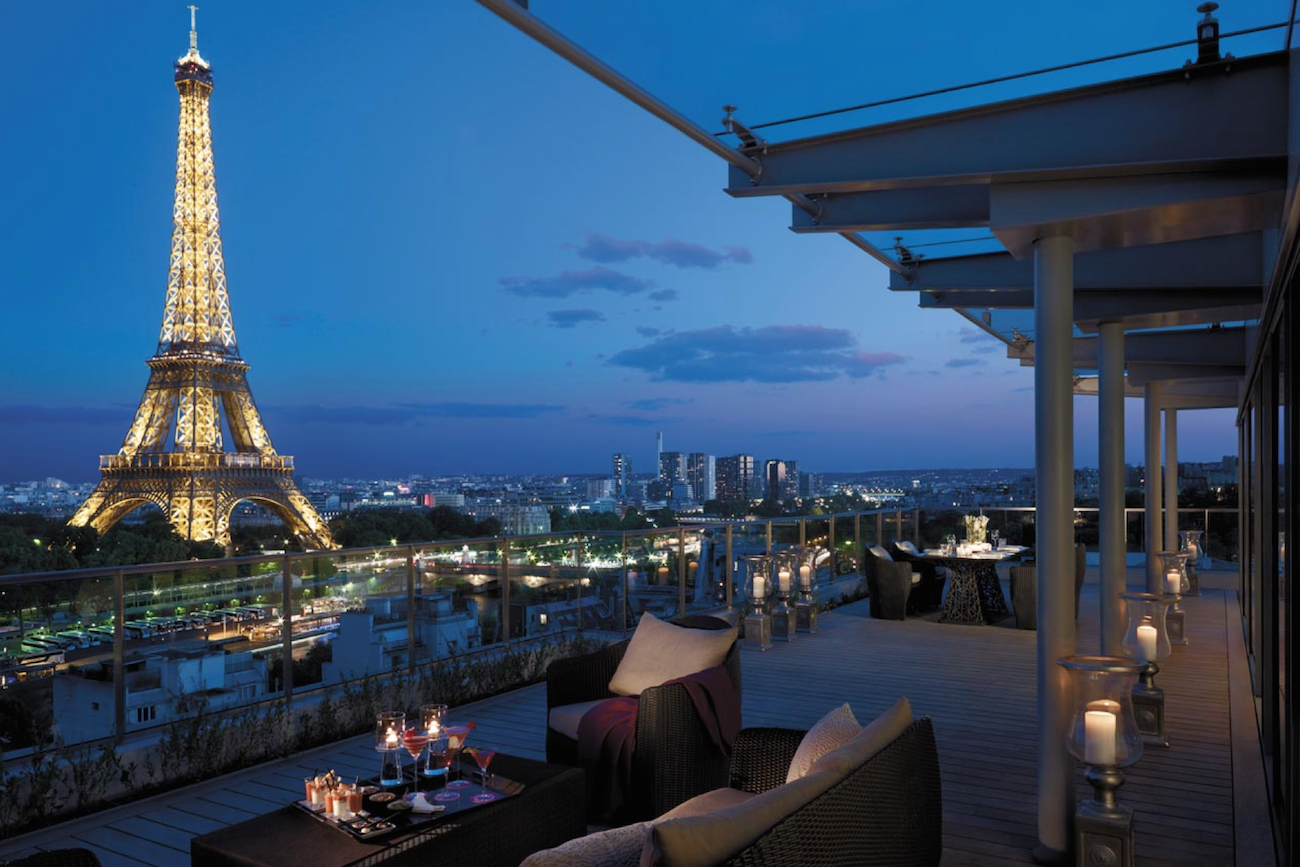 The property market in France, despite continued political instability, is enjoying a strong and steady growth. Buoyed by low mortgage rates and an insatiable appetite for prime French property, the market has strong appeal for domestic and international buyers alike.
France's Property Market in 2019
After 3 years of exceptional trading on the French property market, 2019 continued to exceed expectations. This continued success was largely driven by the res-sale and old property market. The number of transactions that occurred last year has broken records. By the end of 2019, the number of sales crossed 1 million units – an increase of 11.4% from 2018 levels.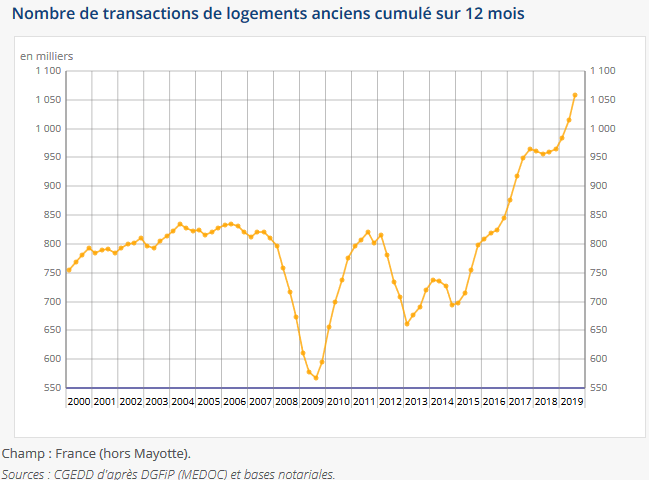 France's political environment, from the outside, does not seem like the perfect context for a buoyant and growing property market. However, despite the political uncertainty over tax issues and the 'yellow vests' movements, the market continues to rise, rather than decline.
French Buyers Benefit From Increased Purchasing Power
The property market frenzy has been, in large part, triggered by low mortgage rates, allowing buyer confidence in purchasing.
Not only does this mean buyers are able to afford more luxurious homes, it also means that households who were previously ineligible for mortgage loans are now able to afford repayments, expanding the size of the buyer market. The buyer market is also benefitting from an abolition of the housing tax for around 80% of the French population, making property purchasing easier for the vast majority of households.
The outlook for 2020? Mortgage rates are sure to remain low. While banks may not be able to reduce the rate as significantly as they have done in previous years, many commentators expect to see the rate cut even further, boosting buyer purchasing power even further.
Pricing in France's Property Market
Similarly to the number of transactions, the average price of property in France is increasing rapidly. Across France as a whole, the average price per square metre is trading at €2,632, as of the start of 2020 – an increase of 2.2% against the previous year.
Drilling down into the numbers further reveals fairly large contrasts in France's regions. Paris, unsurprisingly, continues to lead the way in average property prices, with families and investors alike attracted to large, bustling cities. Prices in the capital city climbed by 8% in 2019, increasing the average price per square metre to €10,175.
In regions outside of the capital, most city areas saw price increases of up to 11% while even rural areas, whose prices have been notoriously unstable over previous years, saw an average increase of 1.6% across the year.
Popular locations outside of Paris include Toulouse, Lille, Montpellier and, of course, the French Riviera. While some of these locations may not have shown the growth that Paris has the quality of life is what attracts many of our clients to these superb spots. From beautiful architecture to glamorous restaurants, we can see why they're growing in popularity year on year.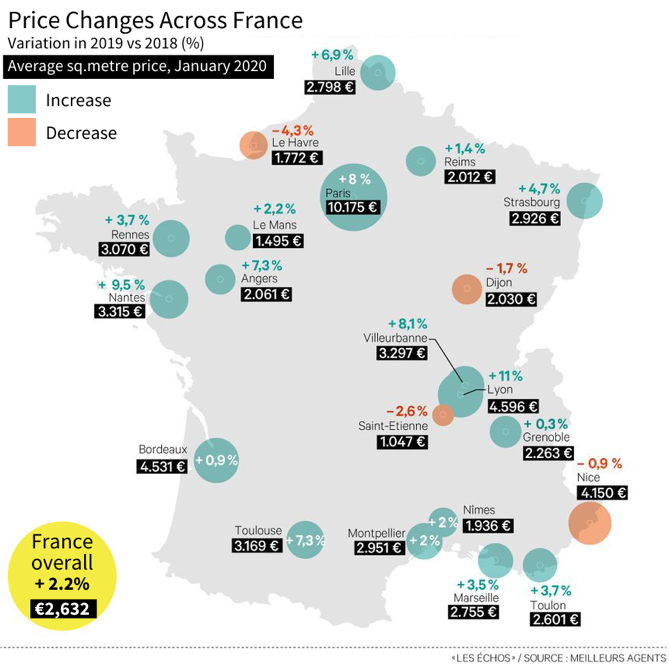 Property Tax Exemptions In France
Low mortgage rates are certainly an appealing draw of purchasing property in France, along with decreasing unemployment, but property tax exemption is another big draw for buyers.
Under the Pinel Law, investors are able to benefit from a partial reimbursement of the cost of purchasing a new house, via reduced taxes for several years. Similarly, the Denormandie Law offers similar benefits, applicable to older housing.
With the Pinel and Denormandie Laws applicable for at least the next 24 months, the French property market is hugely appealing.
What Does The Property Market In France Look Like In 2020?
With such positive figures seen in 2019, will 2020 see the further boom or will the bubble burst? Most property market commentators suggest that the market is strong enough to continue growing into 2020, and even beyond. Our experts estimate increases of around 1.5% in average asking prices across France, while predicting prices in Paris to soar by as much as 6%.
However, some spectators predict a move away from big-city property purchases. With so many transactions in larger cities, negotiations are rare. As supply declines and prices continue to rise in city regions, commentators like Christine Fumagalli suggests that buyers will increasingly choose to purchase property in 'secondary' cities, like Rouen, Orleans and Angers – developing areas in commuter belts, within easy travelling distance of large cities. These areas certainly have their appeal, with green spaces and less pollution, while still enjoying the amenities of the nearby larger cities.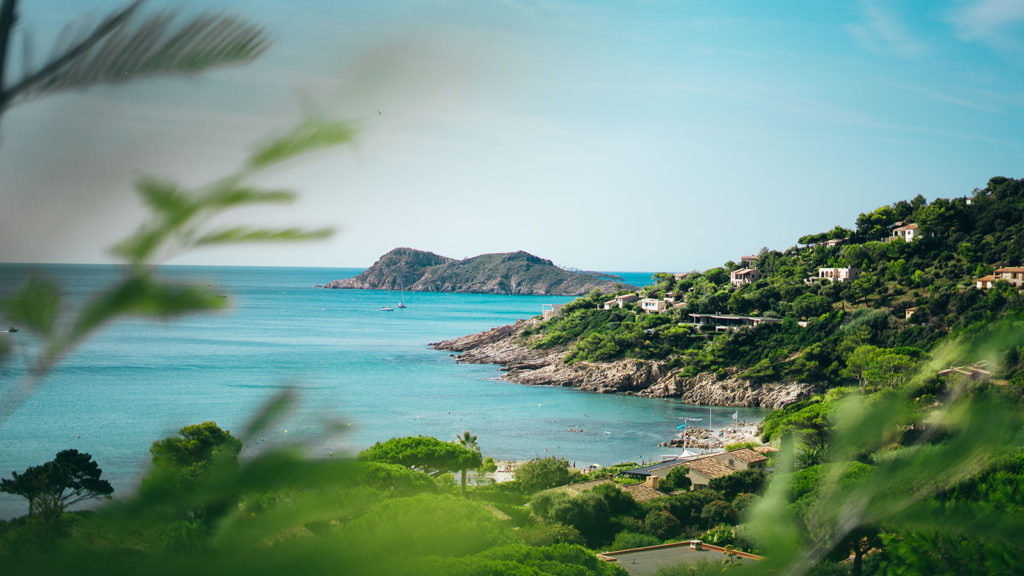 For international buyers locations such as Paris, The Alps and the French Riviera have always been worthy of investment. The luxurious lifestyle, coupled with the exquisite views and unique properties, leaves little to be desired.
If you're looking to invest in property in France, the market shows no signs of slowing any time soon. Purchasing now could result in financial returns within just a few years, if the market continues its upward trend.
As specialist buying agents, France is always a popular choice with our clients, for good reason. We've helped families and investors secure their perfect home in France, and we can help you too. Get in touch to discuss your property needs with our specialist team.