Case Study: Family Luxury In The Algarve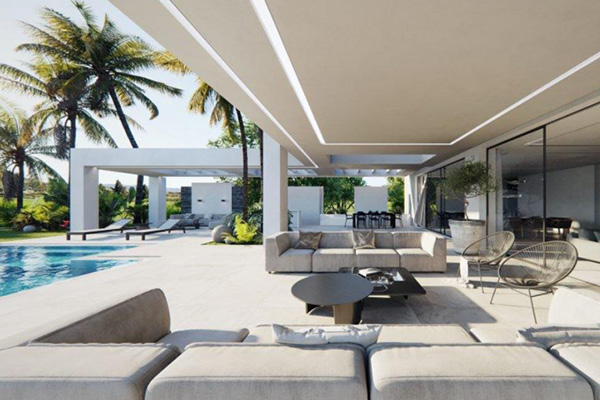 Introduced to us by an existing client, we met a premier league English footballer and his wife at their home to discuss their project and property needs. The couple were looking for a family holiday home in the Algarve region of Portugal, where sun, sea and sand are almost never-ending.
With a budget of €7-9 million, financed by a mortgage, the family needed a property large enough for their 3 children and were particularly interested in the Quinta do Lago area. Less than 20km from Faro Airport and famed for its luxury, Quinta do Lago is a 550-hectare resort and one of the three corners of Portugal's 'Golden Triangle': the most affluent area of the country. House prices in the Golden Triangle areas, including the resorts of Quinta do Lago and Vale do Lobo, average €12,500 per square metre. It also offers great rental opportunities during the tourist season, from May to October, assisting with mortgage payments when lending is required.
The Portuguese Property Market
The property market in Portugal is notoriously difficult to navigate, but the appeal to foreign investors is huge. The Portuguese government's NHR programme allows foreign buyers who become resident, spending at least 182 days of the year in the country, to benefit from an appealing tax environment: a flat rate of 10% tax on foreign revenues and a 10% tax on foreign pension incomes, too. For families looking for a new home in Portugal, these tax terms are hugely favourable.
Find out more about the Portugal property market in our 2020 update here.
Financing The Property Search
Before proceeding with the search, the first challenge on this project was securing finance for the property. Our clients were looking for a minimum of 10 years term on the mortgage, which would ordinarily be looked upon favourably by lenders. However, the particular challenge on this project arose from the profession of the client: footballers, given the nature of the industry, are typically seen by banks as very high risk clients from a mortgage perspective.
Under these circumstances, banks generally only offer lending to the period of their current club contract – which, for our client, was just 4 years and not enough for their needs. On top of this, there are few private banks who are willing to take property assets in Portugal as collateral on a mortgage. Combined, these hurdles made financing our client's holiday home challenging.
However, through our extensive network of lenders and experience in managing projects for footballers and sport professionals, we managed to secure our client a 50% LTV mortgage from a bank in the Netherlands. Once in place, we proceeded with the property search.
Finding The Ideal Home In Quinta do Lago
The real estate market in Quinta do Lago is incredibly competitive, with demand consistently outpacing supply at the top end and making it vital for quick, educated decisions to be made.
Quinta do Lago is a small area, and there are around 25 estate agencies covering it. We engaged with all of them, but, more importantly for a highly competitive market like this, we also made use of our extensive network to identify FSBOs (For Sale By Owner) and off-market properties for our client.
After 2 weeks of intense research, we identified 21 properties fitting the client's requirements and shortlisted 16 with our client for viewings. We organised the schedule and accompanied the client through 3 days of property viewings in the area.
After our viewings, the client and his wife chose 3 properties on which they were willing to make an offer. Their first choice was a FSBO property sourced via our network, so it was important to develop and agree on a solid negotiating strategy to achieve a positive result.
The Final Purchase
Once the strategy was agreed with our client, we spent a week intensely negotiating directly with the property seller. Through an intricate process, we reached an agreement and our client's offer was accepted – at 12.6% less than the original asking price, which was a great result for everyone.
Once agreed, the sale progressed quickly. We put together a team to work on the process, consisting of a notary, a lawyer, a surveyor and a tax advisor. We proceeded with the loan application, including the bank valuation, and managed the conveyancing and estate planning processes through to completion.
With a small team working together on a single project, the process was straightforward and simple, alleviating the property-buying stress our client would have otherwise felt. Our client was able to secure the perfect property in Quinta do Lago, ready for endless vacations enjoying the sun, sea and sand of the Algarve.
Whether you're looking for a full-time family home, a second property in the sunshine, or are developing an investment portfolio in the UK, France, Monaco, Spain or Portugal, we are here to help you achieve your vision – as stress-free and simply as possible. Get in touch with us to get started with your search.